Tak jako v různých jiných zaměstnáních, ani jako vývojář hry dnes nemáte nic jistého. Sám by o tom mohl povídat Asbjoern Soendergaard, bývalý programátor společnosti Crytek, který se samozřejmě podílel na vývoji Crysis. Jak jistě mnozí z vás vědí, tak v současnosti se pracuje na druhém díle této střílečky. O tom však už Asbjoern nic neví. Jak je to možné? Vyměnil totiž jisté křeslo vývojáře za to sólové. Proč vydělávat na jiné, když si člověk může vydělat na sebe? A s čím že to pán Soendergaard plánuje přijít na trh? Pochopitelně se obrátil na momentálně nejlepší herní plaformu iPhone a připravuje moderní zpracování kdysi oblíbeného kapesního tamagoči.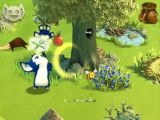 Pocket Creatures (dále jen PC) však není jen tak obyčejným tamagoči, kterého jste kdysi nosili po kapsách. Kromě roztomilé barevné grafiky totiž nabídne víceméně hromadu inovativních nápadů. Chcete-li například nakrmit své zvířátko ( říkejme tomu zvířátko, ačkoli se to mnohdy podobá spíše Pokémonovi - pozn. aut.), tak musíte nejprve zasadit strom, na kterém porostou bobule pro našeho svěřence. Kde ale sehnat lopatu na vykopání jámy? Aha! Ptakopysk ze sousedství by se hodil, jeho zobák se totiž podobá lopatě, snad mu to nebude vadit...
Když se vám už konečně podaří vykopat jámu, tak se najednou ze země vynoří váza. Logiku v tom nehledejte, pravé utrpení teprve začíná! Na rozbití vázy potřebujete datla a toho chudáka musíte vyhnat na chutné včeličky! Po rozbití nádoby se konečně objeví zářící semeno a můžete slavit triumfální vítězství. Pro redaktory Mobilgamer.cz rozhodně jeden z největších a nejpůsobivějších herních zážitků v historii mobilních her.
Pocket Creatures jsou plné podobných detailů, které jsou díky pohádkovému prostředí a krásným zvířátkům doslova k sežrání. Jindy nudné poskakování u pokakaného pejska se v Pocket Creatures rázem promění v naprosté orgie a se slovy "Ťu ťu ňu ňu" budete odcházet od displeje vašeho iPhone. Pokud vám to zní vyloženě složitě, tak se nemusíte ničeho bát, tahle hra vás prostě chytne a jen tak nepustí!
Humor hraje první housle. Příšerky můžete donutit k úplně všemu, co vás napadne! Můžete naučit vaše miláčka jíst jeho vlastní výkaly, nebo ho donutit pořádně ubližovat menším zvířátkům a vytvořit tak opravdového despotického tyrana s pořádným smyslem pro zvracení. Zní to nechutně? Nemohli byste být redaktory Mobilgamer.cz!
Pocket Creatures mají skutečně obrovský potenciál stát se něčím víc, než jen dalším Touch Pets Dogsem. Kromě samotné bláznivé hratelnosti jistě potěší velmi povedená grafika, kterou neodmítnou ani mladší hráči. Zatím se tedy zdá, že Asbjoern Soendergaard nešlápl tak vedle. Finální verdikt nad výchovou andílka nebo naopak vyšinutého ďábla se dozvíte v nejbližší době exkluzivně na Mobilgamer.cz. Pocket Creatures vyjde v nadcházejících měsících.