Nic mi do toho není, ale hádám, že to není tak dávno, co jste se ztratili. Chápu. Příhoda o ztraceném chlapečkovi kdesi na dívčích toaletách vám je asi úplně šumák (i když kdo ví). Co by vám ale nemělo ujít je určitě příběh Ztracené planety, posledního trháku statných vývojářů z Gameloftu. Ti se totiž nechali inspirovat její konzolovou a počítačovou předlohou a spolu s Capcomem si pro nás připravili zbrusu novou sci-fi mlátičku!
Ani druhý díl Lost Planet není pro žádné bábovky, protože už samotný příběh vás zavede do končin neprobádané planety. Přesně po desíti letech se znovu ocitáte na bájné planetě, která prodělala celou řadu dílčích změn. Sníh díky klimatickým změnám pomalu roztál, což planetě umožnilo naplno ukázat své krásy i nástrahy. Džungle se totiž stala útočištěm další a mnohem vyspělejší havěti a to znamená pouze jedno. Očistit planetu od všech možných emzáků a prostřílet se až na konec posledního levelu.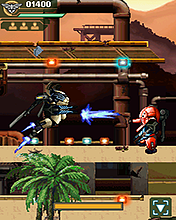 Mobilní hra je však na všechny ostatní informace skoupá a jediné, co se díky krátkým textům na displeji dozvíte, jak se skáče, střílí a tak podobně. Na ovládání si nebudete dlouho zvykat a nic nového se vývojářům ani pro tentokrát vymyslet nepodařilo. To by ani tolik nevadilo. Klasické křížové ovládání zůstalo tak jako dřív, takže autorům zbylo plno kláves na spoustu dalších funkcí. Každý hrdina, za kterého si alespoň jednou zahrajete, oplývá nějakou speciální funkcí. Obecně platí co část planety, to jiný hrdina. Ve hře si tak vyzkoušíte hru za typického žoldáka i za další výstřední hrdiny.
Planeta je rozdělena na tři stěžejní oblasti. Po džungli se přesunete na vyprahlou pustinu a nadobro ještě jednou zamáváte promrzlým tundrám posetých sněhovou peřinou. Každá oblast nabízí rozličné možnosti a skrývá odlišné protivníky, jejichž umělá inteligence zůstává skoro pořád stejná. Souboje s místními nepřáteli sice nepatří mezi nejzajímavější okamžiky, alespoň se při nich ale můžete kochat detailním pohledem po postapokalyptické planetě.
Grafika je opět plná barviček, efektů a všeho dalších, na co jsme už jsme si po letech u Gameloftu zvykli. Hra ale až nápadně připomíná nedávno recenzované Predators. Na poměry mobilních her je třeba pochválit vhodně zvolenou zvukovou kulisu. Pokud vlastníte konzolou nebo počítačovou verzi Lost Planet, můžete sáhnout i po propracovaném multiplayeru, který tady pochopitelně musíme oželet.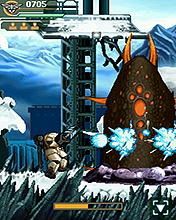 Co nás na hře nejvíce svazovalo, byla průměrná hratelnost. Váš avatar na povely nereaguje zrovna nejlépe a funkce automatického zaměřování selhává téměř při každém souboji, kdy je od vás nepřítel vzdálen jen pár kroků. Druhý díl Lost Planet bych tak doporučil pouze jako oddechovou pro nenáročné hráče. Těm otrkanějším asi moc dlouho neposlouží a po několika levelech se ji brzy rozhodnou vypnout.