"Velká" verze Mafie II se v mechanikách ještě nestačila ani pořádně ohřát a gangsterská odysea se už dobývá i do našich telefonů. Pojďme se tedy společně ponořit do příběhu jistého Marca a opříst své jméno trochou té mafiánské slávy. Kdo ví, třeba se jednou domůžeme i slavného titulu Don...

V "rodině" začínáte jako úplný benjamínek, což se ale s pomocí vašeho strýce (a pravděpodobně z jeho strany zděděných genů) rychle změní a velmi brzy si získáte pověst úspěšného čističe a řešitele problémů. Příběh je, podobně jako u "velké verze", velmi silnou stránkou hry a byla by škoda ho jen tak "vyplácnout" a ochudit hráče o zážitek a tu pravou mafiánskou atmosféru. Musím o něm ale napsat jedno - umí napnout a umí pohltit. Samostatnou kapitolou pak jsou vedlejší úkoly, které přinášejí peníze, uznání nebo třeba nějaké to vozítko. Ale vyjmenujme si Marcův arsenál pěkně popořádku.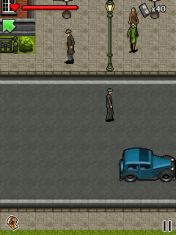 Za prvé, Marco je skvělý boxer a dokáže si spoustu věcí vyřešit ručně beze zbraní, což je skvělý způsob, jak nebudit přílišnou pozornost policie a také ne každému je třeba hned nasazovat betonové polobotky, ve světě zločinu často vystačíte s výstrahou. Přeci jen, to živí platí výpalné, mrtví nikoliv... Ovšem, i těžší argumenty jsou občas na místě, takže Marco je i skvělý střelec - o různé pistole a pušky není nouze. No a do třetice, Marco je i skvělý řidič. Hned v prvních misích si můžete přivydělat malou krádeží osobních vozů.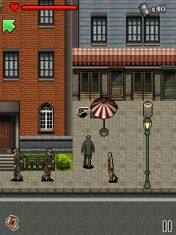 Zatím jsme zmínili dobrý příběh, atmosféru, zločinecký arsenál, ale co stinné stránky? Má hra nějaké? Bohužel ano. Těžko říci, zda byla hra šita horkou jehlou, ale některé věci by se daly nazvat až bugy. Za prvé, ve hře je funkční dopravní značení - skvělé. Jenže při jízdě autem semafory bez problémů projíždíte. Za druhé - nepřátelé. Sice po vás jdou pěkně tvrdě, ale jejich inteligence se rovná ptáku dodo (známějšímu též jako blboun nejapný), ten se také zmohl jen na vyhynutí. Jejich Achillovou patou je totiž prakticky jakákoliv překážka, o které se velmi rádi zasekávají. A (asi, aby se to vyrovnalo), zasekávání o předměty ze začátku bude určitě dělat problémy i vám. Naštěstí jde ovládání dostat do ruky během chvilky.
Grafika a zvuky - zde vše bez problémů, město vypadá velice hezky a zvolený pohled "shora" pomáhá přehlednosti. Město navíc žije, všude na ulicích potkáváte lidi (kterým můžete provést i nějakou tu nepříjemnost), po silnicích jezdí vozy (které si můžete promptně vypůjčit od protestujících majitelů), zkrátka krása. Zvuková stránka pak odpovídá dnešnímu standardu - neohromí, ale neurazí.

Vše by se dalo shrnout na závěr do jedné věty. Kdyby nebylo chyb, mohla na tom tato hra být ještě líp.