Doufám, že s sebou máte minimálně plavky, protože nová závodní hra Aqua Moto Racing 2 (dále jen AMR2) se chystá pořádně rozvířit stojaté vody zběsilých závodů skútrů na AppStore. Ne že by nebylo k dispozici dostatek kvalitních závodů, ale který z nich vám místo tvrdé silnice nabídne vodu? Kde jinde se můžete vytahovat, že váš vodní skútr trhá vodu a drtí protivníky? Jen a pouze v AMR2.
Jak jsem již naznačil výše, celá tato hra je o zběsilém závodění mezi rozbouřenými vlnami neznámého moře. Jako v každé závodní hře, i zde je nejdůležitějším faktorem ovládání, které se naštěstí povedlo na výbornou. Hra vám sice automaticky nabídne tradiční kombinaci volantu a plynového pedálu, ale není problém si v menu vybrat z několika dalších typů ovládání, včetně využití pohybových senzorů iPhonu.
Hra vám nabídne úctyhodných 24 tratí rozdělených do sedmi skupin (dle obtížnosti) a zakončených velkolepou cenou. Poté se odemkne i speciální mód, kdy máte možnost projíždět všechny tratě zrcadlově. I přes rozmanitou nabídku tratí jsme byli tak trochu zklamání. Vyšší obtížnost je až dětinsky lehká a hravě tak celou hru pokoříte za jeden večer. Trochu mně osobně vadila také absence multiplayeru, který by trvanlivost rozhodně prodloužil.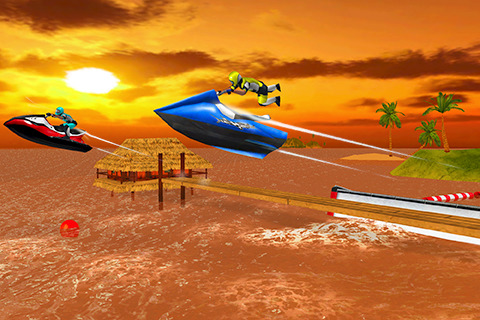 Problém trochu kratší hry řeší obchod se skútry, díky kterému zůtanete na vodní ploše o něco déle. Nové hračky se odemykají během pokořování všech turnajů a právě za peníze z výhry si můžete koupit nadupaná vodní vozítka. Peníze lze získat také sbíráním ikonek na trati, nebo děláním parádních cool triků ve vzduchu s vodním skútrem – čím hezčí a náročnější vzdušní divadélko, tím více penízků v kapse. To se pak lehce kupují i ty nejrychlejší stroje.
Když si totiž pořídíte nového miláčka, při závodech to okamžitě poznáte. Místo brzd tady slouží zejména větší vlny, jež vás hravě dokážou zpomalit, nebo mnohdy nahodit do skupinky ostatních závodníků. Bohužel kolize jsou v AMR2 na denním pořádku. Nutno podotknout, že ne vždy jsou ovšem zpracovány realisticky, a tak se stane, že při mohutné srážce projedete davem závodících maniaků jako nůž máslem, jindy už při malinkém ťuknutí letíte hlavou do vody. Nepotěší ani menší bugy v podobě zaseknutí se na pláži a podobně.
Vůbec celé grafické zpracování působí tak trochu rozpačitě. Hra se sice snaží být pestrá a občas přijde nějaká ta změna prostředí, pořád je to ale modrá voda, modrá obloha, slunce, pláže a nějaká ta palma…postupem času se vám barvy smíchají do sebe a prostředí přestáváte vnímat, navíc textury nejsou vůbec ostré, což AMR2 trochu stahuje do hlubin.
Tato hra byla testována na telefonu iPhone zapůjčeného internetovým obchodem www.cesky-mobil.cz.