Tajemná mimozemská substance Tiberium, "hodné" GDI a "zlé" bratrstvo NOD - jejich dlouhotrvající konflikt zná pravděpodobně každý, komu se byť jen na chvíli doma na stole ohřálo nějaké to PC. Ani v mobilní verzi to není jinak a i zde se tyto dvě strany mydlí, akorát oproti standardnímu modelu se stavěním základny, výroben atd., který jsme znali z předchozích verzí, ve čtvrtém (mobilním) dílu oba tábory poněkud změnili svou výzbroj a přešli na obří kráčející základny. V základě jsou k dispozici dva druhy "kráčedel" - ofenzivní a defenzivní.

Ofenzivní útočný stroj staví "pouze" bojové jednotky, sám o sobě umí protivníkům pořádně zatopit svými lasery a po troše toho "vylepšování" (o vylepšování později) i regeneruje svůj pancíř. Defenzivní základna taktéž není bezbranná, ale má mnohem větší možnosti, co do výzkumu a výstavby a celkově hra s ní připomíná mnohem více známý a zažitý "stavitelský" koncept. Volba základny záleží na typu mise - ty se plynule a logicky střídají a spolu s animacemi vyprávějí příběh hry, příběh Země, kterou pomalu a jistě pokrývá mimozemská substance (která je mimochodem hlavním zdrojem energie) a nekončícího boje obou frakcí za svou pravdu.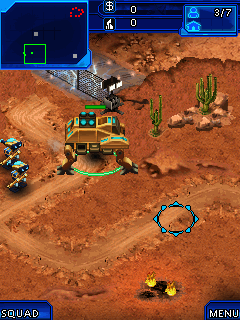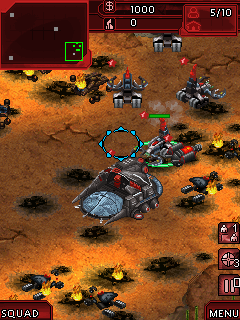 Bojových jednotek je na obou stranách více než dostatečné množství, ať už jde o "walkery" nebo tanky, každá má svou silnou a slabou stránku, jednotky, proti kterým prakticky nic nezmůže, a jednotky, pro něž je dokonalým katem. Každá jednotka má navíc jednu speciální a jednu automatickou vlastnost. K jejich objevení ale napřed musíte dobýt či získat na daném území výzkumnou základnu. Pak můžete teprve zahájit ten pravý vývoj a povýšit bojeschopnost svých jednotek. A propos, pokud jde o povýšení, tak samozřejmě vaše jednotky se bojem zlepšují - tak jako v PC verzi. Každá z výše zmíněných základen pak má speciální útok - ty se zkoumají mezi misemi a v husté řeži často dokáží zachránit krk.
O tom, jak vypadá herní systém jistě mají všichni představu, ale přiznám, že největší strach jsem měl z toho, jak se EA popere s ovládáním. Co si budeme říkat, u naprosté většiny real-time strategií pro mobily bylo ovládání katastrofou. Nicméně, autorům patří můj obdiv, POPRVÉ za svou herní "kariéru" jsem měl tu čest s dokonalým ovládáním pro real-time strategii. Všechny vyráběné jednotky se totiž skládají naprosto automaticky do skupin (samozřejmě je můžete mezi skupinami přesouvat), přičemž jednotlivé skupiny přepínáte pomocí jediného tlačítka a můžete tak dokonale koordinovat útok různých typů jednotek. Zahájení útoku NAPROSTO VŠECH jednotek je pak otázkou dvou "kliků" na nepřítele, naopak použití speciálních vlastností je otázka dvou "kliků" na vaši jednotku - a to je jen malý příklad neuvěřitelně promyšlené logiky ovládání. Připočtu-li ještě možnost hru v kterémkoliv okamžiku zastavit a naplánovat další postup, opravdu není co dále řešit.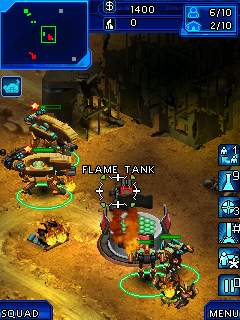 Technické zpracování - grafika a zvuky. Grafika a animace jsou velice dobré a rozhodně se autoři nemají za co stydět - naopak, je doslova radost sledovat jednotlivé boje, kdy lítají střely, rakety a objevují se výbuchy. Na mé N95 jsem si ale všiml jistého nešvaru a sice, při větším dění na displeji se hra zpomaluje na hranici snesitelnosti. Na druhou stranu, těžko odsuzovat hru za to, že se plynule nehýbe na 3 roky starém telefonu (umíte si představit, jak patrný rozdíl by to byl na počítači?). Zvuky a hudba jsou bohužel na úrovni průměru - dle mého oblíbeného rčení ani neurazí, ale ani nepotěší. Přesto ale...

Comand a Conquer naprosto naplnil mé očekávání a zároveň nenaplnil ani jednu mou obavu a proto si své vysoké hodnocení právem zaslouží. Hráli-li jste tuto hru rádi na počítači, pak neváhejte.