Pamatujete si ještě na oblíbené prázdniny u babičky a dědečka? Pod příslibem odměny jste byli nelítostně vystaveni pracím všeho druhu a jistě mi dáte za pravdu, že leckdy jste bídně skončili s pocitem zkažených prázdnin. Přesně takhle si nostalgicky zavzpomínáte při první příběhové animaci v akčním RPG Rimelands…
Ne, opravdu jsem se nezbláznil, podobné úkoly totiž bude dostávat hlavní hrdinka od své babičky, i když samozřejmě půjde o život a vše bude řádně zabalené do velkého dobrodružství fantasy světa. Naše rudovláska se sexy postavou a odvážným srdcem musí najít bájné destruktivní kladivo vikingského boha Thora, pokud chce zachránit svou rodnou zem¨sužovanou utrpením. Kladivo a další důležité magické artefakty se nacházejí ve starověkých úkrytech, kde lidstvo kdysi našlo poslední útočiště a to během průmyslové revoluce, kdy byla znečištěná celá Země.
Tento jedinečný příběh, který je mimochodem hlavní dominantou hry, pochopitelně nabízí skvělou možnost kombinace starověkých a vyspělých technologií, a tak se nepřátelům můžete postavit tváří v tvář s mečem v ruce, nebo je na dálku ostřelovat pistolí. Samozřejmě nechybí různé specializace jako bojovník, zabiják, nebo čaroděj, to vše spojené ještě se spoustou kouzel a bojových bonusů. Děj je bohužel dost lineární, rozhodně nemůžete prozkoumávat okolí na vlastní pěst, ale to vše vám naštěstí vynahradí katakomby, kde najdete hned několik různých cest.
Během svého putování se pohybujete v reálném čase až na soubojový systém, který funguje na tahy. Tento systém se opravdu těžce vysvětluje, zjednodušeně jde o to, že házíte útočnými a obrannými kostkami a v závislosti na tom, kolik obrázků lebek nebo štítů hodíte, způsobíte, nebo přijmete více škody. Výhodou jsou speciální schopnosti, které vám třeba navýší počet kostek či umožní dvojitý hod.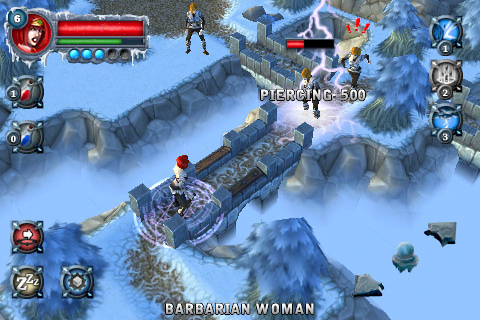 Ovládací prvky se skládají z jednoho D-padu umístěného v pravém dolním rohu (lze přenastavit) a několika ikon s životy, manou, aktivací kouzel a otevření inventáře. Třešničkou na dortu je poté skvělé grafické zpracování, a to jak interiérů tak exteriérů, které jsou sice chudší na detail, vše se však snaží zachránit měnící se prostředí venkovních lokalit. Modely postav i samotné souboje vypadají také velmi pěkně. A ta nejlepší zpráva nakonec? Autoři z Crescent Moon Games mají v plánu přivést na svět minimálně jedno další pokračování tohoto RPG s obrovským potenciálem.
Tato hra byla testována na telefonu iPhone zapůjčeného internetovým obchodem www.cesky-mobil.cz.