Tetris. Slavná hra z 80. let, kterou vyvinul rus Alexej Pažitnov. Těžko tehdy mohl tušit, že jeho hra se dočká takového množství zpracování snad na všech výpočetních/herních strojích všech generací. Po pravdě, věřím, že až budeme mít doma "konzole" s kompletní výbavou pro virtuální realitu, najdou se tací, kteří v ní budou skládat na sebe kostičky. Zpět ale k dnešní "duhové" verzi.

Ta totiž narozdíl od konkurenčních titulů (viz např.: Tetris Revolution) nenabízí nic jiného, než původní verzi, která ale už po desetiletí úspěšně dobývá hráčská srdce - právě ono výše zmíněné a známé skládání různě tvarovaných herních dílů. Jedinou výzvu tak představuje postupně se zvyšující rychlost v různých úrovních - do nové postoupíte vždy při nahrání určitého množství bodů.
Nebyl by to ale titul od QPlaze, kdyby (bohužel) neměl mouchy. U této hry je to grafika. Někoho totiž napadlo udělat kolem herních dílů "cool" efekty, takže každý díl za sebou táhne zářící auroleu a kolem sebe rozsvěcuje různá pole. A přestože měli autoři určitě původně v plánu něco jiného, výsledkem je značné zhoršení přehlednosti. Neustále musíte dávat pozor, kam vlastně danou "kostku" chcete umístit. Časem si ale lze na zobrazení (alespoň trochu) zvyknout.

Hudba není špatná a výborně by se hodila k nějaké hříčce, rozhodně však ne k logické hře, kde (alespoň pro mne) působí naprosto nevhodně a ruší v přemýšlení. Naštěstí ji lze vypnout. Zkrátka - hudba jako taková ano, ale k tetrisu ne.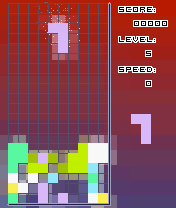 Rainbow Tetriz přesto v produkci firmy QPlaze vyniká. Je to totiž jedna z mála her od nich, která se skutečně dá i hrát. Vše teď záleží na cenové politice distributorů. Nabídnou-li ji za skutečně rozumnou cenu (rozhodně do padesáti korun, lépe však ještě levněji), pak nevidím důvod, proč by si ji hráči, toužící po tetrisu, neměli koupit. Nevadí-li vám ale obětovat pár desítek korun navíc, pak sáhněte po titulu od konkurenčního EA - tam dostanete za své peníze víc.