Rok s rokem se sešel a nejenom při vánoční pohodě či bujarých oslavách silvestrovské noci, ale také při podzimním příchodu nových fotbalových ročníků, zjišťujeme, jak ten čas rychle letí. Ani teď tomu nebude jinak. Přivítat totiž můžeme dalšího zástupce z řad Real Footballu, tentokrát s číslovkou 2011.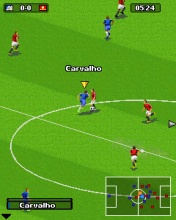 Hlavní tváří nejnovějšího fotbálku od Gameloftu se stal sympaťák David Villa, který už nehájí barvy svého předešlého klubu, španělské Valencie, ale jihoamerické FC Barcelony. Obsazení Villy dává hře svěží nádech, jak je na tom ale samotný obsah a hratelnost? Obecně se Real Football bezesporu řadí mezi kvalitní"čutálistické" tituly a ani nejnovější ročník není výjimkou. Nějaké zásadnější změny oproti předchůdci tu ale budeme hledat marně.

V nabídce je hned několik druhů herních módů. Pro nedočkavce je přichystán klasický přáteláček nebo nově rychlá hra, kdy si vyberete pouze svůj tým, soupeřův je zvolen automaticky a rovnou se můžete pustit do zápasu. Nechybí ale samozřejmě ani dlouhodobější klání. Jmenovat můžeme třeba Enter the Legend, kde si vyzkoušíte odehrát celou sezónu v roli jediného fotbalisty, kterého si vyberete z již existujících nebo si ho nově vytvoříte. Najdeme tu také mezinárodní i klubovou ligu, stejně tak RF ligu s on-line žebříčky, přibyl Int´l Cup. Trénink a penalty zůstávají včetně atraktivní možnosti zahrát si proti kamarádovi přes bluetooth.

Real Football 2011 obsahuje skutečná jména fotbalistů, ovšem pouze (alespoň) v rámci FIFPro licence – platí tedy pro kluby. Pokud se rozhodnete hrát třeba za náš národní tým, tak na vás bohužel vybafnou zkomolená jména jako Coch, Paralen, vlastně Parolon, a Fenin se nazývá jako nějaká kouzelná formule Harryho Pottera – Fanium. Pokud si s tím ale dáte práci, můžete si jména upravit v editoru. K dispozici je jinak 245 týmů, které jsou rozděleny do devíti lig. Hraje se za různého počasí – slunného dne, deště či padajících sněhových vloček.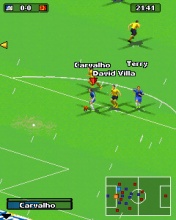 Po grafické stránce vypadá nový ročník velice dobře a celé dění na fotbalovém stadionu je provázáno smyslem pro detail. Při gólu padají barevné třásně, ne všechny sedačky jsou na tribunách obsazeny, síť se při kontaktu s míčem zavlní. Snad jediná výtka patří kruhovému ukazateli při přímých kopech, který zrovna moc fešácky nepůsobí. Zvuky jsou dobré, akorát škoda ticha při úvodní animaci před zápasem. Hudba a řev fanoušků nastupuje až o něco později a mine tak jinak velkolepou startovní atmosféru.

Obsahově je Real Football 2011 skutečně nabitý titul, který vypadá pěkně a nabízí velice slušně hratelný fotbálek. Pokud jste už ale hráli předešlý ročník, prakticky na vás čekají jen aktualizované soupisky. Jestli vám pořízení "dvanulajedenáctky" za to stojí, si už musíte rozhodnout sami. Na druhou stranu je pravda, že tady toho už asi moc vymýšlet nejde, fotbal je prostě fotbal, i když fantazii se samozřejmě meze nekladou. Pro nováčky ale určitě zajímavá volba.