Před více než rokem jste u nás mohli narazit na recenzi povedené akce Modern Combat: Sandstorm, která se zároveň stala synonymem pro všechny střílečky na iPhone, a zároveň jim nastavila laťku pořádně vysoko. Druhý díl je vlastně i takovým mišmašem stříleček N.O.V.A. a Brothers in Arms 2: Global Front a nutno podotknout, že si z nich bere to nejlepší. Nové pokračování vám umožní dokončit to, co jste v jedničce začali, přičemž se podíváte nejenom na Blízký východ, ale nemine vás ani Evropa nebo džungle Jižní Ameriky.
Kampaň nabídne celkem 12 adrenalinových misí, které se odehrávají na třech zmíněných světadílech. Dobrou zprávou je přítomnost čtyř stupňů obtížnosti, takže hra se perfektně hodí jak pro casual hráče, tak i pro hardcore maniaky. Zpracování a vůbec samotné pojetí celé kampaně je navíc mnohem lepší než v prvním díle, například úkoly se zdaleka tolik neopakují a mise tak mají spád, díky kterému je prolétnete skrz na skrz na jedno nadechnutí. I když vašim jediným cílem stále zůstává umístnění co nejvíce projektilů do každého nepřítele, na. "stealth" akci se také nezapomnělo. Umělá inteligence je nyní mnohem hbitější, nepřátelé rychle reagují a umí se pěkně krýt, takže pokud si nedáte dostatečný pozor, tak vás velmi rychle pošlou do pekla. Tím výčet všech změn samozřejmě nekončí!
Nejlepším pomocníkem se tedy rychle stane automatické zaměřování, samozřejmě s možností přepnout do pohledu přes mířidla, která fungují báječně. Vůbec celé ovládání doznalo menších změň a celá hra se teď hraje mnohem příjemněji. K dispozici máte až 4 kontrolní režimy včetně módu s gyroskopem, který si ale jen užijete na iPhonu 4.
Čím dřív si na nové ovládání navyknete, tím větší šanci máte uspět ve vypiplaném multiplayeru, a to lokálně přes wi-fi či bluetooth nebo online. Hra pro více hráčů nabízí neuvěřitelných 72 úrovní pro vývoj zkušeností, odemykání zbraní a perků. Gameloft úspěšně využívá obrovský potenciál iPhonu a servíruje hned 4 herní módy (Battle, Team Battle, Defuse the Bomd a Capture the Flag) hratelné až pro 10 lidí najednou! Každé zabití znamená příliv zkušeností a každý kariérní posun nahoru odemkne nové zbraně a upgrady.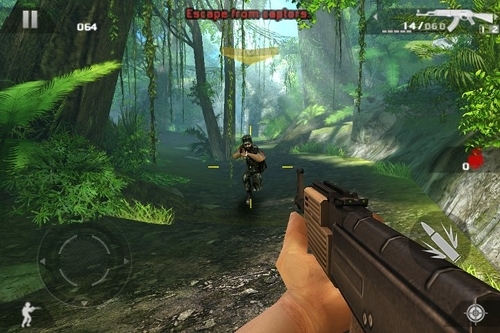 Grafické zpracování také dopadlo na jedničku. Prostředí a zbraně jsou detailní, modely postav vypadají k světu, a to i v cutscénách, kterými je pochopitelně celá hra prošpikována. Samozřejmě k největšímu hernímu prožitku vás dovede pouze retina displej nového iPhonu 4, na kterém hra vypadá vskutku nádherně – kupříkladu pohled na zpomalení v brutálních killstreak scénách je k nezaplacení. Zvukovým efektům nelze co vytknout a celkové ozvučení je snad to nejlepší, co jsme zatím v FPS pro iPhone slyšeli.
V podstatě v celé hře až na výjimky nenajdeme žádné větší chyby. Trochu zamrzí otupělost vašich kolegů v boji, kteří se spoléhají spíše na vás. Autoři tak zřejmě chtěli umocnit celkovou atmosféru a spád hry. Modern Combat 2 se také občas může zasekávat (což poznáte dle slabé odezvy kontrolních tlačítek), zde by měl pomoci hlavně restart telefonu. Modern Combat 2: Plack Pegasus je ohromujícím dílem, které nabízí ultimátní porci zábavy, jakou v žádné jiné FPS na App Store rozhodně nenajdete. Teď už jen N.O.V.A. 2 a můžeme v klidu umřít ...
Tato hra byla testována na telefonu iPhone zapůjčeného internetovým obchodem www.cesky-mobil.cz.