Nelítostný každoročně se opakující souboj mezi fotbalovými velikány na mobilních zařízeních se rozjel na plné obrátky a zatímco jste si naposled mohli přečíst u nás na Mobilgamer.cz recenzi na docela povedený Real Football 2011, do boje zasáhli i zbylí dva kohouti z fotbalového smetiště, přičemž dnes se mrkneme na zoubek očekávanému 11. ročníku fotbalové legendy FIFA.

Předně není žádným překvapením, že celá hra vypadá naprosto perfektně (velikost instalačního souboru navíc šplhá k hranici 900MB). Skvělý systém menu vás sice možná dostane svou jednoduchostí a elegancí, ale teprve in-game grafické zpracování vás položí do kolen. Autoři totiž nastavili vyšší laťku grafickému zpracování a je to hned znát. Stadiony, hřiště nebo povětrnostní podmínky vypadají naprosto dokonale (zejména pokud jste hrdým majitelem iPhonu 4, tak budete jásat) a animace hráčů jsou tím nejlepším, co jsem kdy viděl na přenosném zařízení.
Bohužel se náročnost hry hodně často projeví i na výkonu telefonu. FIFA dokázala využít 100% operační paměti 3Gska, což se ostatně projevilo i ve hře. Pokud iPhone nestíhá, hra se absolutně zpomalí a z jindy rychlého fotbalu máte pěknou galerii obrázků. Ale jak všichni víme, krása je jen bonusem a byla by k ničemu, kdyby hra nebyla po jiných stránkách dodělaná.

Na začátku mně trochu zamrzela zpráva o počtech herních módů – nepočítaje trénink, hra vám nabízí pouze exhibici, pohár nebo ligu. Na druhou stranu vám chuť jistě spraví přítomnost 30ti světových lig (včetně té české), všech druhů pohárů či přes 500 týmů, pochopitelně plně licencovaných (oproti RF 2011 má FIFA 11 v tomhle dost velký náskok). To platí také pro jména hráčů. Sestavy jsou přesné včetně log sponzorů a různých dalších znaků. Hráči jsou navíc snadno rozpoznatelní, a to nejenom díky kvalitnímu ztvárnění většiny obličejů, ale také čitelným potiskem jejich jmen na dresech.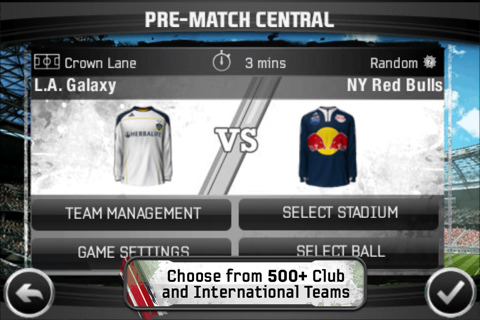 Režim, který určitě chybí nejvíc, je právě hra více hráčů. V menu se sice nachází kolonka obsahující nápis multiplayer, ale bohužel u ní svítí "coming soon". Zda bude k dispozici jen přes bluetooth nebo i online se teprve uvidí v dalším updatu, každopádně můžeme být rádi, že je vůbec na cestě.

A co hratelnost? FIFA 11 zavedla snad ten nejjednodušší a zároveň i nejefektivnější ovládací systém, mnohem intuitivnější než měla spousta předchozích ročníků na PC. Samozřejmě nechybí plovoucí D-pad, který funguje naprosto parádně, i když je pravda, že hráč ve sprintu má se zatáčením hodně často velké potíže, jakkoliv se daný směr snažíte pozměnit.
Nově také potěší přítomnost tří akčních tlačítek, které se automaticky mění v závislosti na tom, zda-li bráníte nebo útočíte a jejich funkce jsou na nich přehledně zobrazeny, takže vše jde jako po másle. Pochopitelně nechybí ani vyspělejší ovládací prvky, například dvojité poklepání na displej znamená provedení nějaké parádičky s balonem. Pokud potřebujete, aby váš spoluhráč nabíhal na druhé lajně, není nic jednoduššího, než ho čapnout a pohybem prstu ho tam poslat.
Za zmínku stojí i zvukové efekty. Zatímco hluk stadionu by místy mohl být i větší, vše zachraňuje bravurní komentáře v anglickém jazyce. Na druhou stranu, nedělá mu problém výslovnost většiny jmen včetně těch českých.
Tato hra byla testována na telefonu iPhone zapůjčeného internetovým obchodem www.cesky-mobil.cz.