Blizzard byl poslední dobou nejspíš příliš vytížený prací na druhém pokračování StarCraftu či třetím Diablu, takže s iOS verzí by se těžko mohl obtěžovat. Ještě že existuje "nenápadný" francouzský plagiátor Gameloft, který bezostyšně vykrádá nápady velkých herních vývojářů a portuje na iPhone jednu herní pecku za druhou. Co na tom, že se hra jmenuje Starfront. Důležité je, že i na malém displeji funguje až překvapivě dobře.

Podobně jako v předloze, i ve Starfront můžete hrát za tři různé frakce – lidské Consortium, hmyzáky s názvem Myriad a nakonec lze okusit i robotické Wardeny. Jednotky a vybavení jsou si vcelku podobné, ale každá má několik speciálních vlastností.

Na začátku rozhodně doporučuji nepřeskakovat povedený tutoriál, který vás seznámí se základními principy hry, jako je výstavba budov, těžba, modernizace vybavení, útočení na nepřátele, ústup. Také vás naučí pracovat s kamerou, která se rozhodně nemá za co stydět. Ovládání je ale primitivní a návykové, takže si hravě zvyknou i všichni RTS neznalci. Vše potřebné máte po ruce na hlavní obrazovce a vaše prsty nahradí myš až překvapivě dobře.
Asi nejvíce času vám zabere samotná kampaň rozdělená na 16 misí. Nevýhodou ovšem je, že si nemůžete vybrat, za koho budete hrát – začínat prostě musíte za lidi, po jejich příběhu jsou na řadě hmyzáci a až nakonec stroje. V každé úrovni musíte splnit několik misí typu "ten a tamten musí přežít" nebo "vyčisti prostor od těch emzáckých parchantů". Cíle na sebe bohužel nijak zvlášť nenavazují, takže občas z toho máte rozpačité pocity. Po dohrání kampaně se můžete nadále bavit například skirmish módem, což jsou volné hry, které si sami vytvoříte.
Samozřejmě nechybí mód pro více hráčů, kde se "vyblázní" zejména zkušenější hráči. Lze hrát jak lokálně, tak online a dokonce lze před začátkem hry upravit i nějaké to základní nastavení. K dispozici je sedmička map, všechny dobře promyšlené. Můžete hrát týmově, nebo si dát tzv. deathmatch. Zajímavostí je, že si hráči můžou uložit záznam své hry a třeba později se k němu vrátit – pochopitelně s možností rychlého přetáčení. Ovšem i zde může přijít velké zklamání, pakliže se uprostřed rozjeté hry z ničeho nic váš protihráč odpojí.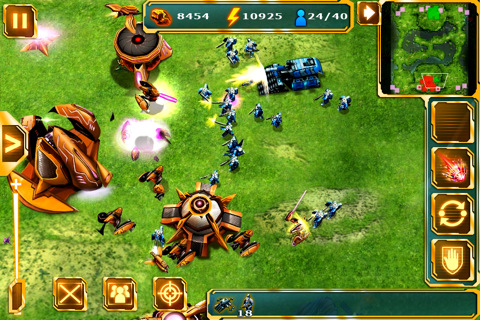 Po grafické stránce se opět jedná o herní skvost, jak už bývá u Gameloftu zvykem. Mapy obsahují spoustu detailů, jsou různorodé a samotné bitvy jsou díky nim vysoce přehledné. Modely jednotek vypadají k světu, a to i při maximálním přiblížení kamery. Nechybí ani spousta efektů, zejména těch světelných při zobrazování výšlehů ze všech možných typů zbraní. Menší výhrady bych měl ke zvukovému podkladu, neustále se opakující melodie totiž nemusí být pro každého tím pravým ořechovým. Naštěstí ji díky neutíchající intenzivní akci často ani nebudete vnímat.

Tato hra byla testována na telefonu iPhone zapůjčeného internetovým obchodem www.cesky-mobil.cz.