Yumsters jsou roztomilou hříčkou, která po vás nebude žádat ani tak lámání hlavy, jako postřeh a rychlé reakce. Herní plocha ze všeho nejvíce připomíná písčitou zem s hromadou otvorů, ze kterých vystrkují své hlavičky nenažraní různobarevní červíci. Kolem se po herním poli objevují různé druhy ovoce - tu jablko, tu jahoda, tu hruška atd... Každý červík je striktním "barvetariánem" (ano, vím, že to slovo neexistuje, tedy, doteď neexistovalo :-)) - tj. baští pouze ovoce své barvy, za to ale v neomezeném množství.

Ovoce ale jen tak neleží (byť samozřejmě nepobíhá kolem), naopak, umí být pěkně záludné. Nejen, že se nezastavitelně objevuje, ale ještě si navíc dovolí postupně zmrznout tak, že doslova není k jídlu. Jenže to nemůže naše červíky zastavit. Zvláštní červí požírací jednotky mají mnoho speciálních členů - od velitelů, kteří, pokud jedí, zvyšují rychlost baštění i ostatních červů, přes "granátníky", kteří po jídle odpálí všechno ovoce v okolí, až po superčervíky, kteří rozkousnou a stráví i ovoce zmrzlé na kamen. Na vás je pak jejich schopnosti náležitě využít. Krom speciálních červíků a ovoce se na herní ploše občas vyskytnou i bonusy. Jeden rozmrazí zmrzlé ovoce, druhý vám zdvojnásobí skóre, jiný zase zastaví na určitý čas zjevování nového ovoce.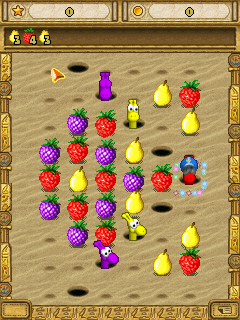 Herní mechanismus je tedy jasný - požírat červíky ovoce. Kolik ovoce a v jakých barvách máte ještě "spást", se ukazuje v přehledné horní liště. Ovládání je nejen bezproblémové, ale i perfektně srozumitelné. Stačí prstem čapnout červíka "za flígr" a přetáhnout na dané ovoce, případně, pokud chcete změnit chodbičku, stačí přetáhnout červíka do ní. Jediné omezení pro požírání je, že cesta k ovoci musí být volná - nesmí vám v cestě stát jinak barevné ovoce nebo pevná překážka.

Technické zpracování je na skvělé úrovni. Grafici Herocraftu opět odvedli tradičně výbornou práci a je to opravdu vidět doslova všude. Obzvláště mimika červíků je naprosto úchvatná.. Rozhlížejí se, vystrkují růžky, schovávají se do svých chodbiček, šklebí se na vás, když si jich dlouho nevšímáte, a to nemluvím o tom, jak dokonale jsou od sebe graficky odlišeny jejich jednotlivé druhy! Velitele si opravdu s jiným nespletete, vojenští "bouchači" mají na hlavě "blembák" a superčervi... Nechte sepřekvapit! Zvuková stránka nezaostává, hudba je příjemná, nevtíravá a nijak neruší.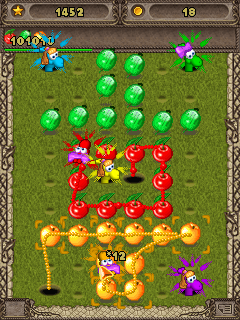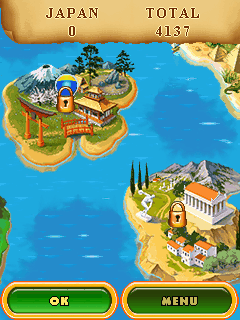 Yumsters jsou prostě výbornou hrou na ukrácení volných chvil např. po cestě v autobuse nebo klidně i kdekoliv jinde. Malou třešničkou na dortu pak jsou ještě různé formy ocenění, které můžete nahrávat na servery Herocraftu a soutěžit tak s osatními hráči.