Francouzský Gameloft v poslední době nechvalně proslul jako vykradač starých dobrých značek, a nutno dodat, že se mu to daří na výbornou. A tak jste si na svém iZařízení mohli poprvé zahrát kopie pecek jako Halo, Call of Duty, Star Craft, Uncharted, Final Fantasy a mnoho dalších skvělých her. Tyto kopie nikdy nebyly zdaleka přesným a dokonalým portem, což je na druhou stranu jen a jen dobře. Stejně tak Order & Chaos není dokonalá hra. Je to imitace známého MMORPG World of Warcraft, kdy se veškeré změny odehrály zejména v uživatelském rozhraní a ovládání.
Největší předností masivně multiplayerových her, jako je například World of Warcraft, je bezesporu fakt, že nikdy neskončí. Neberu-li v potaz to, že vývojáři neustále přidávají do hry nový obsah rozšiřující počet úrovní vaší postavy či zavádějí do hry nové rasy, skutečnost, že je hráč online znamená, že můžete neustále sbírat zkušenosti až do vypnutí serverů. Před tím, než na App Store přišel Order & Chaos, jste museli být připoutáni ke svému PC. Nyní? Dejte sbohem zbytku svému reálnému životu, "wowko" si sebou všude vezmete do kapsy.
Klon nebo ne, jakmile se v Order & Chaos ponoříte do celého MMORPG světa, jen tak vás už nic neodtrhne. Na začátku si zvolíte rasu, třídu a nakonec server a hurá do hry. Variace jednotlivých questů je pestrá jako obsah krabičky s lentilkami – najdete zde tradiční úkoly typu "přines něco, zabij někoho, doruč někomu tuto zprávu" a podobně. A všechny úkoly jsou přitom natolik dobré, aby pořád zůstávaly zajímavými.
Velmi překvapujícími aspekty jsou i skripty. Zatímco samotný herní svět je až příliš obecný, NPC postavy jsou na tom o poznání líp a rozhodně stojí za interakci. Mnohdy se tak dozvíte mnoho zajímavých příběhů z herního světa. A přestože se povídání dá přeskakovat, milovníci mytologie si zajisté přijdou na své. Tedy, jen když jste dobří znalci anglického jazyka.
Jak již u Gameloftu bývá zvykem, grafika je velmi působivá. Jednotlivé charaktery vypadají téměř totožně s postavami z World of Warcraft (dále jen WoW), až na to, že mají menší počet polygonů. Je tu ale několik drobných vizuálních zaškobrtnutí – například když se zaseknete ve dveřích nebo plovoucí postavy, které nakrátko zmizí a podobně. Přesto jsou všechny animace plynulé a i přes menší počet tříd na výběr (pouze 4) se hra zdá být dostatečně rozmanitá. Kamerový systém je přívětivý a občas dokáže pozlobit, ale jen v místnostech, jinak funguje skvěle. Ovšem vykreslovací vzdálenost je extrémně omezená, přestože aplikace stále nepodporuje hraní skrze 3G. Hru jsme testovali přes dostatečně silné wi-fi připojení a problém nezmizel. A tak se často budovy, hory či nepřátele objeví jako mávnutím kouzelného proutku. Naštěstí se díky přehlednému navigačnímu systému nikdy neztratíte.
Aktualizace vašich schopností a talentu obecně začíná dosažením pátého levelu. S každou další úrovní poté dostanete bod, který upgraduje vaši stávající schopnost a každých pár levelů můžete platit za upgrade kouzel nebo schopností prostřednictvím trenéra. Zjistíte také, že nyní u obchodníků už nemusíte trávit tolik času, jelikož většinu dobrých zbraní a předmětů stejně dostanete odměnou za splněné questy. Stejně jako ve WoW se můžete specializovat v dalších oblastech, jako je kupříkladu vytváření brnění či oblečení.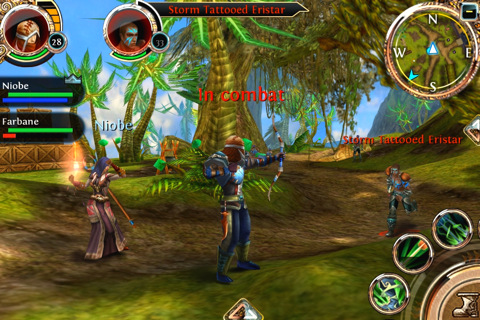 Pokud jste doteď trávili celý svůj život připoutaní ke svému počítači hraním WoW a náhodou vlastníte (a nebo si nyní pořídíte) iPhone, můžete říct sbohem životu kolem. Order & Chaos vás se svými více než pěti sty questy obere o několik desítek hodin života, přestože se pochopitelně stále nejedná o dokonalou hru a místy by to chtělo ještě dolaďovat.