Hlavní otázka, kterou je potřeba si položit před nákupem jakékoli hry založené na filmové licenci (a teď nemluvíme jen o iOS platformě), se rozhodně týká kvality zpracování hry jako takové. Hned další věcí, co hráče zajímá, je originalita. Pakliže vás první otázka zajímá více, než ta druhá, Kung Fu Panda 2: Be The Master, iOS hra na motivy stejnojmenného snímku, jenž mimochodem nyní oblétává kina v naší republice, pro vás může být vcelku sympatickou záležitostí.
Problémem Kung Fu Pandy 2 totiž není zpracování. Najdeme zde pěknou a vcelku detailní grafiku plnou barviček, navíc podporující displej retina. Horší je ale fakt, že vývojáři z THQ, místo toho aby se obtěžovali přijít s originálním nápadem, vykuchali všechny nápady z Fruit Ninja a Doodle Jump, což jsou dvě klasické a oblíbené iOS hry, o kterých jste určitě alespoň slyšeli, nemáte-li už je nainstalované ve své jableční mašině.
Tedy namísto toho, aby hra propagovala film, se to zvrtlo spíše v akční nabídku typu "kup neoficiální aplikace Fruit Ninja a Doodle Jump za jednu cenu". Co na tom, že se jedná o jiné prostředí – náplň obou her je pořád stejná. Na druhou stranu nutno dodat, že Kung Fu Panda zase nabízí velmi příjemnou cenu, takže pokud ani jednu z kopírovaných her nevlastníte, není lepší investice než do této roztomilé tlusté pandy.
Abychom se ale dostali k náplni daných miniher – v Paws of Power (neboli Fruit Ninja) je vašim úkolem prstem rozsekávat letící předměty a přitom se vyhnout rozseknutí včelího úle, čím pro vás hra končí. Druhá minihra s názvem Feet of Fury (Doodle Jump) je zase o co nejdelším skákání do výšky. V obou hrách jde vždy o co nejvyšší skóre. Bohužel online módy ze svých předloh převzaty nebyly, zato ale hra nabízí alespoň integraci se sociální sítí Facebook a samozřejmě i podporu služby Game Center. V menu dokonce můžeme najít i další dva prázdné sloty, kde by se měly objevit nové hry, a to skrze budoucí aktualizace. Doufejme, že autoři pro jednou přijdou s něčím novým a neotřelým.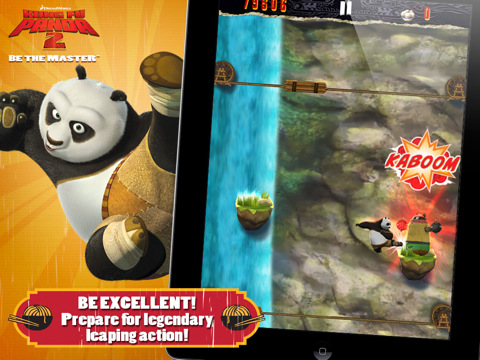 Pokud si chcete koupit neoficiální aplikaci vytvořenou spojením dvou známých herních konceptů, kde plyšové pandy nahradí ovoce a mimozemšťany, je čas se podívat na App Store.